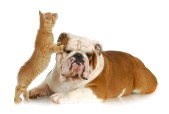 As Will County's original no-kill shelter we've been serving the area for over 40 years with a single purpose, provide a safe haven for homeless pets and help them find their forever home.
Every day of the year we care for over 40 homeless dogs and nearly 100 cats looking for their forever homes. We provide for their general health care, shelter and well being through our network of volunteers and resources.
It's important that you know that we're a private shelter 5013C not-for-profit that recieves no federal or local government dollars to run our facility and care for pets. In fact the shelter relies on generous donations from people just like you to make it all happen.