Every little bit helps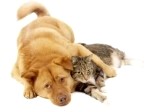 The Will County Humane Society offers the animals it rescues a guarantee of life. The more donations we receive, the more animals we can save. Please help us save homeless cats and dogs by making a tax-deductible contribution today.
Donate By Mail
Send your contribution to Will County Humane Society, Attn Donations, 24109 W. Seil Road, Shorewood, IL 60404
Donate Online
We would love to keep you up to date on our future fundraising events in support of the Will County Humane Society's mission.  Please add your mailing address to the "Add special instructions to the seller" section to be added to our mailing list for all future events!